This product by pairs of transmit and receive light eyes and main controller;Mainly applied to various translation automatic doors and electric telescopic door, automatic gate security clip (people or things) auxiliary functions.Accurate and reliable detected by people or things, provide automatic door closed and opened the door signal, stop a as to avoid the potential safety hazard of automatic door clip clip thing.Characteristic: launch receiving distance (up to 10 meters);Light eye installation convenient wiring, easy cross-eyed, adjust the tolerance is bigger;Light eye head fixed and firm, not easy to take off;Strong anti-jamming capability, and not all kinds of visible light, infrared light modulation interference and triggered by mistake;Single beam of light, double beam of light to the optional;Flexible contact output signal delay is adjustable;
The overall characteristics of the:
1. The microcomputer control technology, the system has high integration, strong stability.
2, the international general optical lens design, focusing on sex good, reasonable controlled Angle, easy installation and correlation.
3, send and receive special encoding by microcomputer technology, launch receiving distance, strong anti-jamming capability.
4, with German receive filter, decoding, amplification system, effectively solve the problem of natural sunlight interference.
5, launch head with low power consumption and high pulse technology, firing distance, power consumption province, lens long service life.
6, with a single set of input of two pairs of sending and receiving lens fission or connections, connection block sex is good.Can be charged with a beam of light,
Can also be a charged with double beam of light.
7, the light shade when triggered, adjust output signals can be flexible contact contact delay time.
8 design, wide voltage input, 12 ∽ 36 v ac/dc power input is valid.
9, special high precision calculation model, and the sunshine filter factor, to interfere with the performance of the system is greatly increased.
10, has received head short fault alarm function.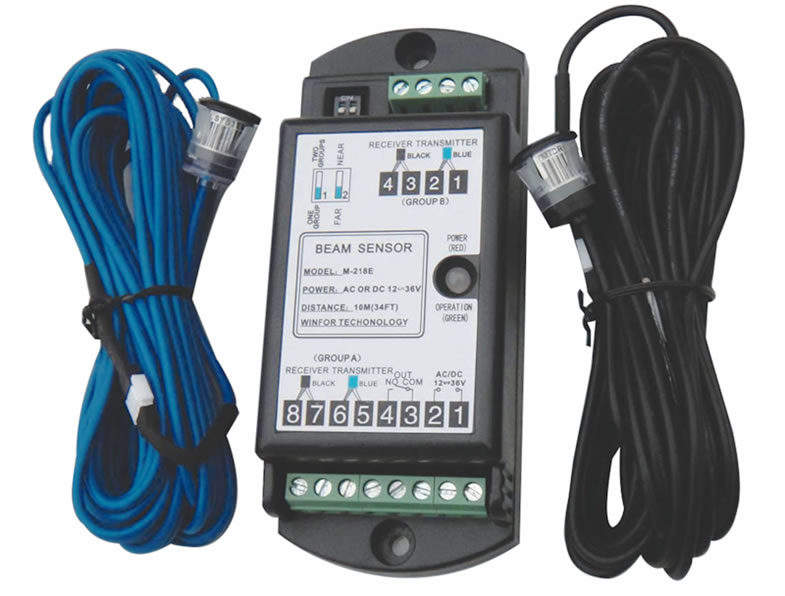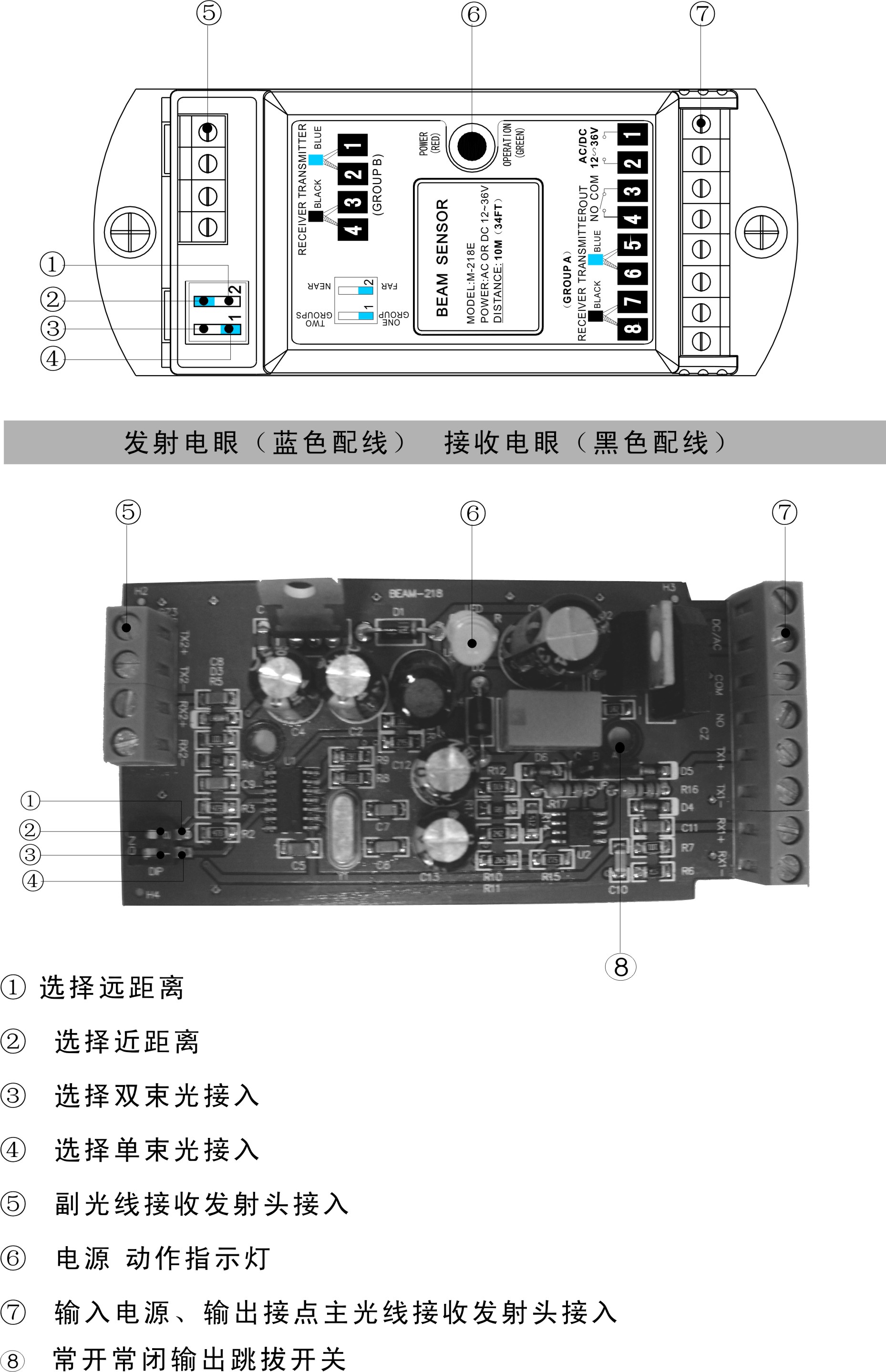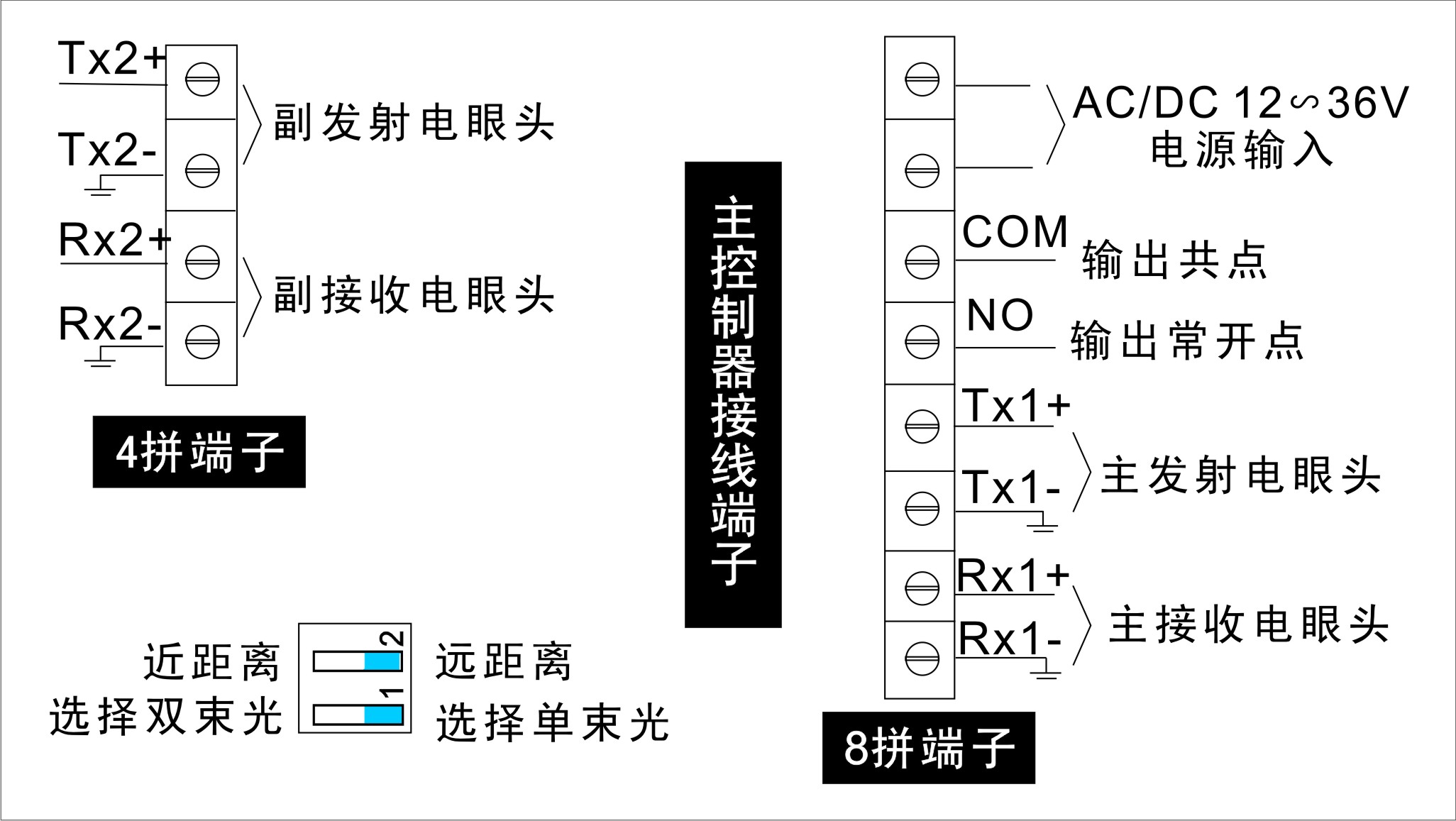 Application security light installation considerations
Magic eye head when installation, drilling aperture to 13 mm
Single beam of light, the recommended installation height from the ground: 60 cm double beam of light, a set of installation height of 30 cm from the ground, another set of height 90 cm from the ground
When choosing a single beam of light emission receive light eye head must meet in 8 main transceiver terminal of the terminal, or in the sending and receiving terminal control will lead to failure.
To send and receive correlation of magic eye head, have automatic capture range, but please keep in mind when installation of is to ensure the consistency between horizontal and vertical direction.
To send and receive correlation between magic eye head, at ordinary times should pay attention to not put miniascape, or other stacked lest cause misoperation.
This system has good ability to resist natural light interference, but when installation should try to avoid direct sun direct positive magic eye head.
To ensure the safety light height not less than 20 cm from the ground.
The main technical parameters
Power supply: AC/DC12 ∽ 36 v static current: 25 ma current action: 40 ma
The biggest transceiver distance: 10 meters
Output nodes and keep delay: 0 ∽ optional 1.5 seconds
External wiring: launch line (blue) 6 meters;Receiving line (black) 6 meters
Beam: single or double light beam of light is optional
Working environment temperature: - 42 ℃ ∽ 45 ℃ environment humidity: 10 ∽ 90% RH
Appearance size: 123 mm (length) x 50 mm (width) x 32 mm (high) (master controller)
Appearance size: 19 mm (length) x 12 mm (diameter) (magic eye head)