Medical automatic door series
Technical parameters
Door can open window, middle activity to run smoothly, usable hand switch operation.Apply to hospital channel or clean pharmaceutical factory in the department of surgery, electronics factory, cosmetics factory and other places.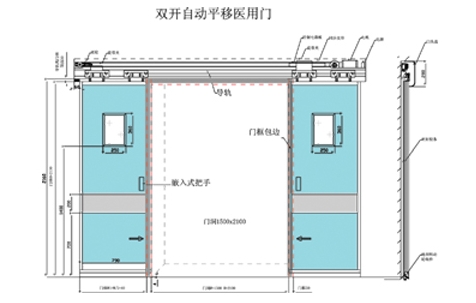 Operation characteristics: open type is divided into single and double
Power plant, using advanced brushless drive and function of microcomputer digital control system, operation life of more than 1 million times.
Power beam: adopt high strength aluminum alloy profiles.Europe type double seal combination process of manufacture, the overall structure is reasonable and reliable.Meet the requirements of closing the seal, dynamic beam and the hydrodynamic plugin directly on the wall, quick and easy installation.
Using rigid polyurethane interior door, door leaf or internal high pressure foaming process for thermal insulation, fire prevention filling material, high strength aluminum alloy frame, the automatic lifting platform and forming large hydraulic equipment.Special equipment and process to ensure that the door leaf good smoothness.Door leaf surface can be decorated according to the requirements of customers large plane brushed stainless steel plate, color coating steel, aluminum, steel, fire prevention board to wait for all sorts of plank, door leaf panel can choose a variety of coating color.Around with a sealing strip, accord with the hospital to use health requirements.
Handle: unique embedded shake handshandle, ensure that power failure easily to open.
Entrance guard system, staff can choose special remote control, according to the site environment, avoid touch switch, the foot feeling, the electric lock switch, etc. The right means of induction, to adapt to the user's individualized requirements.Can match the biggest door size is 3000 mm, 3000 mm wide.Equipped with safety light between gangway, safeguard the normal passage of large equipment, car machinery.
Airtight door technical parameters:

| | | | |
| --- | --- | --- | --- |
| project | And the number | project | And the number |
| The power supply voltage | AC220V 50Hz | Close the door way | Auto/induction |
| Power consumption | <180W | The noise | ≤55dB |
| Door leaf weight | <100kg | The environment temperature | - 20 ℃ ~ 50 ℃ |
| Opening/closing speed | 30~60cm/sec | The standard form | 2.1m×1.5m |
| Open the door way | Induction hand/foot induction | Retaining structure crack length | 7.3m |
Air leakage test:
project

unit

Within the capacity

P

Mr

4.9

9.8

14.7

19.6

24.5

29.4

34.3

39.2

A

M3 / h m

3.5

5.5

7.5

8.5

9.5

10

11

12

Said Ming

1, clean room maintain positive pressure value (mpa) : P.
2, palisade structure gap leakage air volume per unit length (m3 / h m) : A.